Send us your inquiry

: | Telefon +49 (0)351 255 299 44
QUALITY - MEASURABLE SUCCESS !
---
The MC Group M & M team will be happy to assist you as a competent partner in all questions relating to portable measuring devices and visual inspection technology. We are happy to advise you on site and find an optimal solution for your test task. We have been delivering internationally since 2007 and we have been looking after the material and material testing equipment we have purchased and carry out services for these, including DAkkS and ISO calibration.
We ask for a comprehensive program and an interesting selection of test equipment. The products and suppliers we offer have been chosen very carefully and meet all requirements for precision, product quality, ergonomics and reliability.

Is hardness testing of finished parts important to you? Do you value a solid test device for the measurement methods Leeb hardness test, stationary, UCI hardness test method, Shore, IRHD and VLRH or for visual inspection technology? Then you are in good hands by MC Group!

Take the time to familiarize yourself with our range of: hardness measuring devices, ultrasonic measuring devices, video endoscopes and many other control and measuring devices. In addition to our portable measuring devices, we also offer special solutions for automated hardness measurement and visual control in production and processing.
---
OUR OFFER
Hardness testing mobile
With our mobile and stationary hardness testers you can easily carry out your measurements.
Ultrasound - wall thickness measurement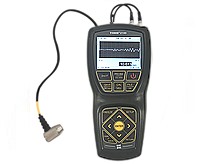 ULTRASONIC- THICKNESS GAUGES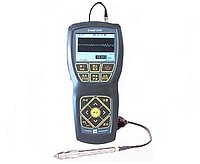 SPECIAL ULTRASONIC
THICKNESS GAUGES
With our mobile ultrasonic wall thickness gauges you can carry out your measurements very easily.
Profile-based roughness measurement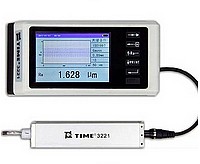 SURFACE RAUGHNESS TESTER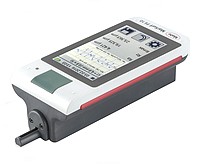 SURFACE RAUGHNESS TESTER
With our mobile roughness measuring gauges you can carry out your measurements very easily.
Industrial video endoscopy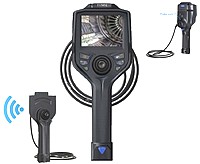 VIDEOSCOPE SYSTEMS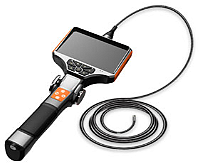 INDUSTRIAL ENDOSCOPE
With our visual inspection technology, you can easily carry out your visual inspections.
---
CALIBRATION ISO - DAkkS / from: 99.00 euros net
During the calibration, the deviation of the display of a measuring device from the correct measured variable is determined.
A calibration certificate with the determined results and the associated measurement uncertainty is issued for the result. A calibration mark is affixed to the test device. Together with the calibration certificate, this documents the traceability to national standards.
MC Group Messgeräte & Maschinen
Am Eiswurmlager 8
D-01189 Dresden ( Germany )
Tel.: 0049 (0)351 255 299 44
Mobile: 0049 (0)173 514 66 80
E-Mail:
vertrieb@mc-instruments.de
NEW EQUIPMENT 2020
Video endoscope: MC-TIME45/100
The MC-TIME45 / 100 video endoscope is frequently used in the aerospace, automotive, automotive spare parts, police, mechanical engineering and many other areas.

TOP OFFER
LEEB HARDNESS TESTER
MC-550EX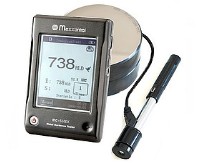 DELIVERY TIME: 3 - 6 Working days
PRICE: from 1 499.00 €
without 19% VAT

Our services: | Guarantee: 24 months

√ Lifetime service
√ Free shipping from 50 €
√ 30 days return policy
HARDNESS COMPARISON PLATES
Fastest availability
DAkkSS - Calibration by
DIN EN ISO - ASTM

Our manufacturer-independent calibrations by the laboratory accredited according to DIN EN ISO 17025 DAkkS ensure the highest quality assurance of the MC test block.
UCI - HARDNESS TESTER
TIME 5630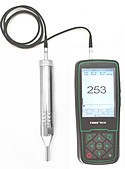 • Replaces standard hardness meters for
quick and uncomplicated hardness measurement.
• A very quick hardness measurement in just
2 seconds.
• Very economical and convenient.
• Very high accuracy: +/- 3% HV,
+/- 1.5 HR, +/- 3% HB
• Significantly improved precision and
Efficiency of hardness measurement.
• Additional variety of data and
Processing functions.

Wall thickness gauge
Intrinsically safe certified for:
ATEX Marking Group I & Group II; CSA Class 1 Group A, B, C & D Division 1; IECEx Ex ia IIC T2/T3/T6 Ga,
Ex ia I Ma
Application:
The Ex-certified devices are intended for use in the offshore oil and gas industry.
Materials testing

Material hardness test

- UCI ultrasound testing
- Leeb
- Shore

Material thickness test

- ultrasound
- eddy current

Surface roughness test

- stationary
- Mobile

Security technology



Visual inspection

- videoscopes
- endoscopes




Training


Instruction

Telephone support and advice:

© MC Group M&M, Am Eiswurmlager 8 | DE - 01189 Dresden Newsletter | Contact | Impressum | Data protection | CONDITIONS

| | | | | |
| --- | --- | --- | --- | --- |
| © 2020 MC Group Messgeräte & Maschinen All rights reserved | | | | |
MC Group Messgeraete&Maschinen
on a regular basis to update the information contained on the site, but it does not bear any responsibility for the accuracy, timeliness and completeness of the information presented on the site. At the same time, reserves the right to make changes to some or all of the service without notice. In the event of any failure on our site, please contact us. email:
feedback@mc-instruments.com
.